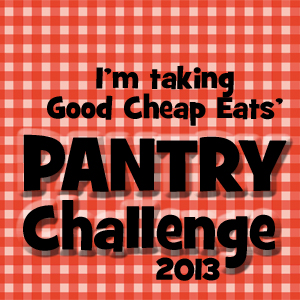 It's that time of year again when we try to rein in our spending, take stock of what we already have on hand and commit to healthful living. So I'm joining in a
pantry challenge
.
My goals:
1. Use up some food stocks we have in our fridge, freezer and pantry.
2. Save money by reducing our grocery and household product expenses (including diapers for 2) to $250 instead of our normal $500 by shopping sparingly & purposefully. The money we save will go toward a furnace repair needed soon.
3. Clean and organize the pantry, fridge, and freezer and deep clean the whole kitchen.
4. Avoid eating out
(one exception possibly on a day we have an appointment - use up Chick-Fil-A coupons)
Dinners
- served with whatever fruit and vegetables are available, or as noted
1. pancakes w/pineapple cream, pears
2. southwest salad w/chicken, corn, beans, cheese, sour cream, etc., cheesy tortilla bites (
using a package of tortillas which have stuck together badly)
3. barbacoa rice bowls, mixed fruit (orange, pineapple, pomegranate)
4. beef stew, whole wheat rolls, vegetable tray & dip, chocolate chip cookies
(taking this meal to friends, also)
5. ham & pineapple pizza
6. hamburgers, baked fries
7. chicken green chili, cornbread
8. tater tot & green bean casserole (using fries),fruit salad
9. spaghetti & meat sauce (make a huge batch and freeze quarts of sauce meals later in the month)
10.breakfast for dinner - ham & cheese quiche, blueberry muffins, orange slices
11. chicken & homemade noodles over mashed potatoes
12. macaroni & cheese w/ham, peas
13. chili, cheese breadsticks
14. meatballs, mashed potatoes & gravy, green beans
15. cheesy chicken pockets (whole wheat dough)
16. spaghetti & meat sauce
17. chicken caesar sandwhiches on homemade focaccia
18. chicken pot pie, fruit salad
19. garlic pork chops, green beans, quinoa
20. roast beef, mashed potatoes & gravy
21. barbeque chicken, rice pilaf
22. broccoli cheese soup, biscuit bites
23. spaghetti & meat sauce
24 -31. flexible - I'll see what comes in our produce baskets before I decide.
Lunches
leftovers
chicken salad sandwiches
turkey cheese sandwiches
snack lunch
Sundays - chicken tortilla soup, orange chicken & rice,
Breakfasts
whole wheat bread & jam
cold cereal
apple oatmeal
whole wheat pancakes
ham & egg casserole, coffee cake
(for our Sunday school class)
smoothies
(lots of frozen papaya & berries to use)
oats w/berries soaked in homemade yogurt
homemade granola
I'm really lacking inspiration for frugal, simple, quick, tasty lunch options. Please share your suggestions! There are so many days I envy the option of just throwing a pb&j together and calling it good enough.
Are you eating from the pantry this month, too?